The Tucson shows are rapidly approaching, and some of you will be leaving for Tucson in a few weeks. As usual, I'm requesting that you pack something for the AAPS Auction this year. Your donations support our scholarship and grant programs, so please be as generous as possible. We will have help picking up your donations during the first week of the show. If you need to contact us during the show for a pick up, please call me at 435-757-6017.
This year, we also want to make sure that you have copies of the AAPS Show Guide for your customers, especially if you took out advertising in the guide. I will be delivering copies during the set-up period of the shows. You can contact me if you notice empty racks at your show and we will get them filled ASAP!
Our annual election of officers has 4 open positions on the board (see below)
On behalf of the Officers of the Association of Applied Paleontological Sciences, I extend our wishes for a safe and fruitful New Year.
Sincerely,
George Winters, Administrative Director
435-757-6017
george@stonejungle.com

AAPS Annual Meeting
Saturday February 3rd, 2018
University of Arizona Student Union 3rd Floor North Ballroom
Doors to the Banquet Hall open at 7:00 p.m. for registration. Cash Bar and Hors d'oeuvre available. Dinner & meeting begins at 7:30 p.m. followed by our Live Auction. Reservations needed by Wednesday, January 31st! Pick up your membership cards and election ballots at the registration table or the AAPS booth at the Hotel Tucson City Center Copper Ballroom. If you will not be in town for the meeting, contact me and I will email you a ballot after the 20th of January
Please join us for a great evening, invite your friends and customers for dinner with AAPS members and fellow fossil enthusiasts.

2018 Fossil Dealers and Events Show Guide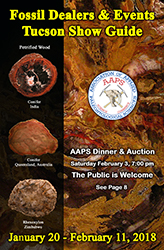 The Association of Applied Paleontological Sciences has published an annual guide since 2006 listing business members of the association. Many of the AAPS member dealers sell at one or more of the over 34 show locations in Tucson during what has become the world's largest mineral and fossil show starting the last week of January or first week of February each year.
We have completed the guide, and it is currently being printed for us by Arizona Lithographers. Copies will be available in Tucson at the Tucson International Airport at the "Welcome To Tucson" tables that great incoming passengers starting on the 25th of this month. We have increased our run to accomidate new show locations and our dealer members.
If you would like to advertise in future editions of the guide, please contact George F. Winters at 435-752-7145 and a contract will be mailed to you. Substantial savings can be had by becoming a business member of the association. Visit our Guide Page at; www.aaps.net/Annual-Fossil-Dealers-Guide.html
View the 2018 Guide PDF by
clicking here
, or on the cover to the left.

AAPS Annual Election
Our annual election of officers has available Officer and Board positions, Visit our Board Member's webpage, and if you would like to run as a board member or officer, please contact me. Article 5, Paragraph C, Section 6, states; Nominations for all Officer and Board positions will be accepted until the third Saturday of January, (January 20, 2018) and may be submitted either by phone, in writing or by email to the Administrative Director. If you would like to run, you can nominate yourself.
Both president John Issa and Tresurer Jane Murray have each recived nominations for another term and accepted the nominations.

Hotel Tucson City Center Parking
As most of you are now aware, the large parking lot next to the Hotel Tucson City Center, is no longer available for customer parking. U-Haul has started building their facility on their property.
Marty Zinn has arranged for two dealer parking lots. These lots are not available for public parking. Marty and his staff are requesting cooperation with the dealers at his show to use these lots during the day so that there is ample parking at the hotel for customers and buyers. Click on the link below for a map of the dealer parking lots.
Please let your customers and buyers know that we have included three pages of Gem Ride Information in the AAPS Guide.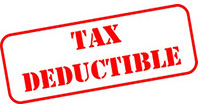 Donations to AAPS The Association of Applied Paleontological Sciences, AAPS, is a public charity under IRS section 501(c)(3). As such it is tax exempt for income tax purposes and is permitted to receive tax deductible gifts pursuant to the Internal Revenue Service. It is also able to receive tax deductible bequests for Estate Tax purposes. Donations to any of our scholorships and Grants are totally tax deductable here in the United States. 100% of all Scholarship and Grant donations are used for those purposes. Specimens donated for our annual auction and for the youth programs may also be deductable, but you need to check with your tax and estate planner

It's The Members That Make The Association